Long ago the Native Americans lived here, and their spirits still watch over the land! Every rock, tree, bird, and animal, they are watching what we do! So be aware while out there and take care of the land and it will be there for our children's children and so on! and so on! Spiritrider
God Bless America!
Our Mission

To improve and promote the use, care and development of backcountry trails, campsites, streams and meadows and to advocate good trail manners.

To promote the conservation, utilization of our backcountry resources in concert with livestock transportation.

To keep backcountry trails open to horsemen in the national parks and forest service areas, including new wilderness area designations.

To keep current information before the membership regarding new legislation of management plans related to governmental regulation of the backcountry.

To support or oppose new proposals, plans and restrictions as related to the interest of horsemen and those persons interested in recreational stock use and enjoying the back country.

To promote the interest of people who, due to health or physical factors, need transportation other than by foot on back country trails.

To promote public awareness and interest in the historical aspects of horsemen and stock in the back country and help educate backcountry users on ways to use the trails and forage in a manner that conserves the resource of the backcountry.

To assist in keeping the public informed of the vital need for a clean backcountry.

To promote a working relationship with and keep the work and interests of membership before our local, state and federal officials.

New Officers as of June 22nd., 2002!
Dear Members
Our Unit members are spread out over seven countys; Alameda 16, Contra Costa 8, Santa Clara 16, San Mateo 12, Santa Cruz 2, Monterey 1, & San Joaquin 1. This is a large area to cover.

Being spread out like this it is hard to get people together. So, I'm hoping with this web site we might pull together and start getting more active.

We need volunteers that can help in these areas;

1. A Sunshine representative - someone to send cards/flowers from unit, to members in need.
2. A Meeting coordinator - someone to set up meetings, help get speakers & classes together, that members would be interested in.

We need volunteers for committees that will work on getting activities started such as;

1. Trail Rides - Play Days
2. Work parties (trail repairs, building bridges etc...)
3. Classes/seminars/clinics (to get membership educated and interested)
4. Members in Parades and County Fair Exhibits.

If interested contact Officers in list above.

Thanks,

Becky DeLaney,
Secretary and Web Master
Ohlone Wilderness Trail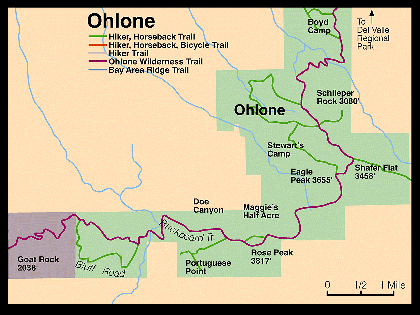 We are a non-profit organization made up of individuals from throughout the state who are dedicated to conserving backcountry wilderness and protecting stock users' historic use of wilderness trails and forage.

BCHC is made up of many Local Units throughout the state and is a member of Backcountry Horsemen of America. BCHA provides a central organization which works with public land administrators on issues pertinent to public use of the backcountry and specifically to stock use in these areas.